Valerie Marie
My only daughter and the source of many joys!


I dedicate this site to my daughter Valerie, a very beautiful, talented, and loving girl, who doesn't feel she is special. Well, she's wrong because she is very special, not only to me but to Christ our Savior, and to many many friends. She is not perfect but who of us are, she is not always my pride and joy but I never stop loving her. We don't always agree but that is part of life and the important thing is that she know I love her. I share here many of my favorite photos and several of our brothers and sisters in Christ popped in to help make her feel special too.

Valerie this is Your Page, everything here is yours, given to you out of Love!


Though she may not know it she is my angel.
A blessing from Heaven who no other could ever replaced.


| | | |
| --- | --- | --- |
| | Valerie and baby brother Shane! | |

The sparkle in her eyes the sweetest smile in the world.


| | |
| --- | --- |
| | Valerie and Grandma! |
| Valerie and Mom! | |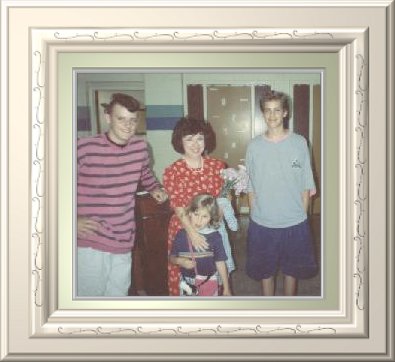 Big brother Shawn, Mrs. Clanton, Big brother Shannon
Valerie
Mrs. Clanton - in our opinion the greatest kindergarden teacher ever,
she had all four siblings. She has now retired before she gets the next
generation.
God bless you Mrs. Clanton!


Some Faces of Valerie!



She has many faces,
not always the most lady like,
"I can be ugly too,
learned this from my brothers!"

Sometimes a little confused
"Oh, am I supposed to be cleaning?"

Not always agreeable
"I'm awake Mom, really"

but always her
and I love them all!
"ummm, this is so good"

Some of Valerie's Pets
The dog is Chaffon, the cat is Smokie (who is no longer with us)


| | |
| --- | --- |
| | |
| | |
| | |
| | |


Valerie's Best Friend Elizabeth (Biz)


FRIENDS
So many things are puzzling,
But this I know is true...
My world is full of sunny lanes
Because I've walked with you.
You've given me as treasures
The gems of friendship rare;
The shining light of faith and love...
The knowledge that you care.
You've helped me grow less earthbound
In looking high above,
To light the light that never fails us...
To the truth that God is Love.
And so, my days are happy,
I've wealth untold, 'tis true...
Because God planted friendship
Deep in the heart of you.
© Lola Taylor Hemphill.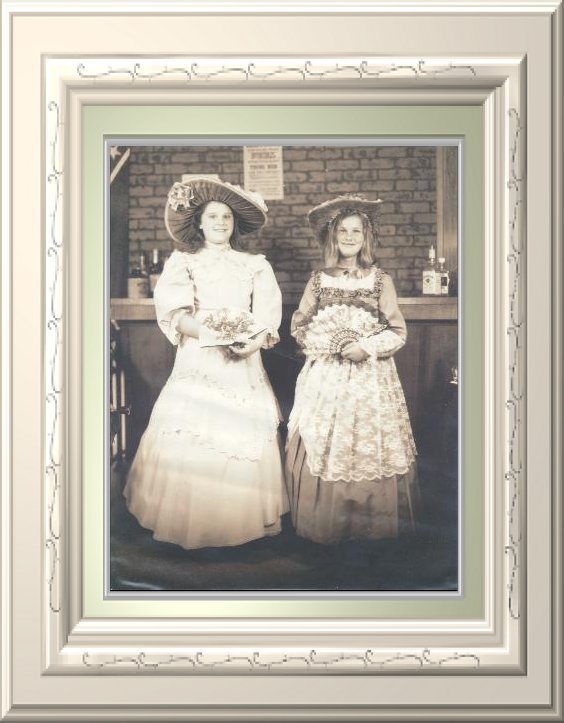 Needless to say her life is not easy -
with 3 brothers what would you expect :)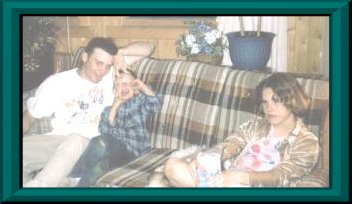 (and they are so helpful and encouraging)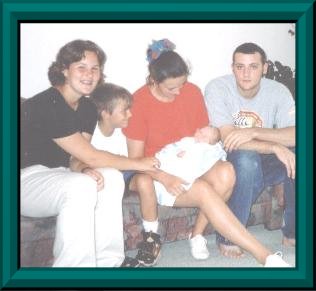 Valerie meets her first nephew (Austin) for the first time!





Mom's message to Valerie:
My Dearest Valerie; I give to you this web page, I know it may not be all that you want but I have done my best with what I have available at the time to show you just how much I love you. As I stroll/scroll down this page I see your smile and it brings tears to my eyes to think that smile is not always there. The love that is in my heart causes me to feel all of your pain. I wish with all my heart that I could take away the hurt that you feel and would gladly do it if I could.
Honey I know you think I love your brothers more than you, but you are wrong. When Shawn was coming I hoped for a girl. I was raised with 2 sisters what did I know about boy's stuff. When Shannon was born again I had hoped for a girl. When you were born I was thrilled. I had so many things I wanted to share with you. Looked forward to so many firsts, first steps, first words, first day of school, first crush. First boyfriend, first date, first prom, first broken heart. Although we have been seperated I have never stopped loving you and I still look forward to sharing your life. Please know that although we may not always agree I am always here for you and always will be, with all my love and prayers. I love you Valerie, Mom (2000)



Psalm 100

Make a joyful noise unto the LORD, all ye lands.
Serve the LORD with gladness:
come before his presence with singing.
Know ye that the LORD he is God:
it is he that hath made us, and not we ourselves;
we are his people, and the sheep of his pasture.
Enter into his gates with thanksgiving,
and into his courts with praise:
be thankful unto him, and bless his name.
For the LORD is good;
his mercy is everlasting;
and his truth endureth to all generations.
(this is one of my favorite verses)





Jesus Is My Solid Rock
from Debbie



Mom's prayer; blessed Father please watch over my daughter and keep her safe. I pray for her health and happiness for with those she will also have wealth. Please open her eyes to the good in the world and the many opportunities that she may be missing out on and keep her away from the evils there are.
In Jesus' name I pray, amen
Page Two - Gifts from FRIENDS
this page is much more than a page full of graphics, it is a collection of gifts from loving friends who love, and care for you Valerie, just as I do. Take your time and enjoy all the wonderful things there are to be found here.