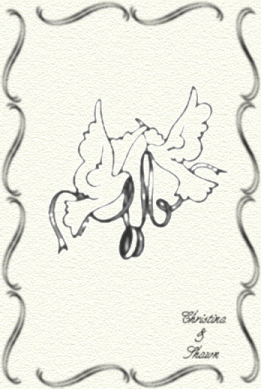 "Let me not to the marriage of true minds
Admit impediments, love is not love
Which alters when it alteration finds,
Or bends with the remover to remove.
O no ! it is an ever-fixed mark,
That looks on tempests and is never shaken ;
It is the star to every wand'ring bark,
Whose worth's unknown, although his height be taken.
Love's not Time's fool, though rosy lips and cheeks
Within his bending sickle's compass come,
Love alters not with his brief hours and weeks,
But bears it out even to the edge of doom :
If this be error and upon me proved,
I never writ, nor no man ever loved."
-William Shakespeare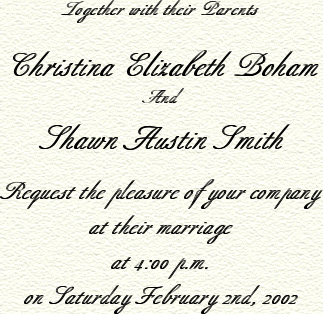 Gifts for The Couple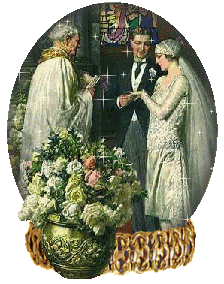 from: Rev. Linda Buttry





BECOMING AS ONE

Shawn and Christina on this day become as "one,
In the name of the Father, Holy Spirit, and Son.
To have and to hold till death do they part,
Is the vow they will make....from the depths of their heart.

A brand new day.....2-2-2.......will never come again,
Leaving behind the past, as this new life they begin.
The love they now share will make them husband and wife,
And they will walk as one, in their brand new life.

In sickness and in health, they will agree to join as one,
And for better or for worse, they have power by God's Son.
This day will mark for them.... a new day of beginnings,
And by the help of the Lord, there will never be no ending.

Shawn and Christina.... pronounced "man and wife"
Forever to be as one, while they walk through this life.
This is the goal and desire of their hearts,
Because God has granted them a brand new start.

CHRISTINA ELIZABETH BOHAM
AND
SHAWN AUSTIN SMITH
2-2-2

"Two become One in this year of God's Son".

May the blessings of the Lord always rest upon Christina and Shawn.

by
J. P.'s Inspirations (c) 2002




PRESCRIPTION FOR

A HAPPY MARRIAGE

Blest be the tie binding your hearts in love

Gift of each other, bestowed from above

Right man, right woman, what joyful union

One with The Father~Such sweet communion!

Two separate pathways, now entwined as one

Joined to each other in love of God's Son

Each giving totally~no selfish thought

No greater riches will ever be sought!

~Linda C. Smith~




Proverbs 3:5&6

"Trust in the Lord with all

thine heart; and lean not

unto thine own understanding.

In all thy ways acknowledge Him,

and He shall direct thy paths."





You'll suffer no lack, every step HE'll direct.

Magnify THE LORD~Ps.34:3~together in your love.

Your marriage will be blessed

from Heaven above!

~Linda C. Smith~





May we be blessed above measure
In the pure love we both treasure.
May home be as "Heaven on earth"
Serving the Lord of matchless worth.
May we always magnify HIM,
The joy in our hearts never dim,
As we live, love, trust and obey,
Eyes on the LORD to lead the way.
The winds of life may fiercely blow
But HE IS where ever we go.
HE'LL guide us through the darkest night
To safety in HIS glorious light!







song playing:
Butterfly Kisses
by Bob Carlisle